Anna Vaivare • What a Feeling!
Venticinque emozioni invaderanno il centro di Empoli durante il Ludicomix 2020, attraverso altrettante illustrazioni di artisti invitati da noi a partecipare alla mostra ALFABETO EMOZIONALE. Il tema generale dell'Area Illustrazione infatti sarà What a feeling!, quindi si parlerà di emozioni e intelligenza emotiva. Ogni artista della mostra ALFABETO EMOZIONALE interpreterà secondo il proprio stile un'emozione assegnata, e verrà presentato attraverso un'intervista a Vanvera.
L' intervistata di oggi è Anna Vaivare, distruttrice di mocassini, illustratrice e fumettista di Riga!
Potete gustarvi alcune delle sue bellissime tavole a gouache e acquerello qui, nella sua intervista a Vanvera!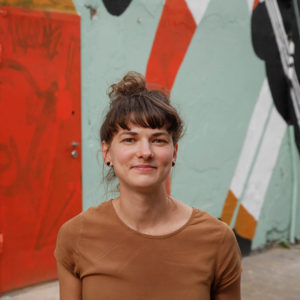 Anna Vaivare is an illustrator and an architect living in Riga, Latvia. She has graduated Riga Technical university Faculty of Architecture and Urban planning and is now studying print making in Art Academy of Latvia. She entered the illustration world first by drawing comics that were published by Comic anthology "š!" Her first illustrated children's book "'Īpašie Vārdi", a poem by Imants Ziedonis, was published in Bicki-Buck series by Liels un Mazs in 2013. In 2016, she was awarded Jānis Baltvilks Prize in Book Art for illustrating Leons Briedis book of poems Saputrotāputra / Forage for Porridge (Liels un Mazs, 2015). In 2017 she illustrated a picture book written by Inese Zandere Zirgā / Riding High (Liels un Mazs) that brought another award. Her first collaboration with an international publisher was in 2017 when she illustrated poems by Julia Bird Now You Can Look, published by The Emma Press in UK. With her illustrations and comics Anna has taken part in several exhibitions and festivals across Europe and has collaborated with magazines in Latvia and internationally. She mostly works in gouache and watercolor techniques characterized by vivid colours and sharp strokes
Anna Vaivare è un'illustratrice e architetto di Riga, Lettonia. Si è laureata alla facoltà di Architettura e Urbanistica dell'Università tecnica di Riga e attualmente studia tecniche di stampa alla Art Academy of Latvia. Ha esordito nel mondo dell'illustrazione disegnando shortcomics pubblicati nella raccolta antologica "š!". Il suo primo libro illustrato, "'Īpašie Vārdi", un poema di Imants Ziedonis, è stato pubblicato nella serie Bicki-Buck da Liels un Mazs nel 2013. Nel 2016 ha vinto il premio Jānis Baltvilks Prize in Book Art per aver illustrato il libro di poemi di Leons Briedis Saputrotāputra / Forage for Porridge (Liels un Mazs, 2015).
Nel 2017 ha illustrato il libro Zirgā / Riding High (Liels un Mazs) scritto da Inese Zandere che le ha fatto conquistare un altro premio. La sua prima collaborazione a livello internazionale è stata nel 2017 quando ha lavorato alle illustrazioni dei poemi di Julia Bird, Now You Can Look, pubblicato da Emma Press nel Regno Unito. Con le sue illustrazioni e i suoi fumetti Anna ha preso parte a numerose mostre e partecipato a festival in tutta Europa, ha collaborato con riviste Lettoni e internazionali. Lavora principalmente con la tecnica gouache e con acquerelli dai colori vividi e pennellate taglienti.
Cinque parole a vanvera su Anna illustratrice.  
Colorful, detailed ,precise, bold, curious
Colorata, dettagliata, precisa, audace, curiosa.
Cinque parole a vanvera su Anna essere umano.
Analytical, free, spontaneous, skeptical, curious.
Analitica, libera, spontanea, scettica, curiosa.
Una dote/caratteristica che non può mancare ad un disegnatore?
Ability to notice peculiarities and being sharp in expressing them clearly.
L'abilità di notare le peculiarità e l'essere abili nel rappresentarle chiaramente.
Cosa odii di più del tuo lavoro?
Setting the price of my work.
Definire il prezzo del mio lavoro.
Ah già… The o caffè?
Coffee. But it's hard to choose, I need coffee in the morning, but tee is probably the liquid substance I drink most often.
Caffè. Ma è una scelta difficile, ho bisogno del caffè al mattino, ma il tè è probabilmente la sostanza liquida che bevo più spesso.

Quando ti senti arrabbiata ascolti…
I don't have a particular habit to listening to something specific when I'm angry. I would even say that silence is the best. It's even hard to imagine at the moment, when I'm not angry what I would like to listen to when I am.
Di solito non ascolto qualcosa di specifico quando sono arrabbiata. Direi anzi che preferisco il silenzio.
Mi è difficile immaginare, adesso che non sono arrabbiata, cosa vorrei ascoltare in un momento di rabbia.

Qual è l'illustratore che ti emoziona di più?
Anna Sailamaa, JooHee Yoon, Arianna vairo. Oh, again, it's hard to name just one.
Oh, di nuovo, è così difficile nominarne solo uno.
Far trasmettere le emozioni ai personaggi che si disegnano è importante: tu fai le facce dei tuoi personaggi mentre li disegni?
Hmmm. Maybe I do unconsciously. But I do for sure react with emotions, most often laughter, if I have drawn someone with particularly expressive pose or face or strong personality. It's like reacting to the characters emotional expression that has come alive. It's actually one of the best parts of illustrating process.
Hmmm. Forse lo faccio inconsciamente. Di certo reagisco con delle emozioni, spesso rido se ho disegnato qualcuno in una posa o con un volto particolarmente espressivi, o con una forte personalità. Come se reagissi all' espressione dell'emotività del personaggio che ha preso vita. È assolutamente uno dei momenti che preferisco del processo d' illustrazione.
Che colori utilizzi per rendere una tavola arrabbiata?
Yellow and pink.
Giallo e rosa.

Ti è mai capitato di dover fare un'illustrazione piena di felicità quando ti sentivi triste, o viceversa? Un'illustrazione tenera e delicata quando ti sentivi arrabbiata/o col mondo? Come hai superato l'ostacolo?
Yes, I have and it was super hard. I can't even look at that artwork now, despite it was some years ago, it's still give me those clashing emotions. I didn't have a good clue how to overcome that, I think I just drew what I had to and tried to block my own emotions, but I can't recommend that. It felt like lying. There must be a better way.
Sì, mi è capitato ed è stato difficilissimo. Non riesco più a guardare quel disegno, nonostante sia passato qualche anno, vederlo rievoca ancora quelle stesse emozioni contrastanti.
Non ho avuto buone idee per superare questo ostacolo, credo semplicemente di aver disegnato quello che dovevo, in modo freddo, e di aver bloccato le mie di emozioni, ma non lo consiglio. È come se avessi mentito. Ci deve essere sicuramente un modo migliore.

Alcuni studi suggeriscono una forte correlazione tra l'indossare alcuni vestiti e gli stati emotivi.
Per te esiste la "coperta di Linus"o le "scarpette fortunate"? C'è un indumento o un oggetto che riesce ad influenzarti positivamente o negativamente?
Yes, of course, but they change over time. Now I have those two sweaters, they both were given to me by close friends. They are nice piece of clothes and look good on me, but I think the stories behind them are a big part of the reason they make me feel good. The problem with that kind of clothes is that you stop seeing how they actually look. I once had a pair of yellow moccasins, they were so comfy and I wore them with everything until they fell apart and I refused to see that they look like a piece of rubbish at the end. Clothes can also influence mood in a bad way easily when I have put on something that I don't feel like wearing that day, then it keeps me uncomfortable the whole day. Especially when wearing a dress instead of pants and vice versa. It could look good, but it wouldn't feel right.
Sì, certo, ma cambiano nel tempo. Adesso ho questi due maglioni, entrambi mi sono stati dati da dei cari amici.
Sono dei bei capi e mi stanno bene addosso, ma credo che le storie che portano con sé sono la ragione principale per cui mi fanno stare bene quando li indosso. Il problema con questo tipo di vestiti è che smetti di vedere come sono veramente. Ho avuto un paio di mocassini gialli, erano comodissimi e li indossavo sempre fino a distruggerli e mi rifiutavo di vedere che erano ormai spazzatura.
I vestiti possono facilmente influenzare il mio umore anche negativamente quando mi metto qualcosa che non mi va di indossare, mi fa sentire scomoda per tutto il giorno. Specialmente quando indosso un vestito al posto di un paio di pantaloni o viceversa. Può starmi bene ma non mi fa stare bene.